7 Celebrity Redheads with Brown Eyes we know you'll love
When it comes to celebrities, so many have become famous not just for their talents, but also for their beauty. Whatever you love, there is a celebrity out there that channels your favourite look. So many people love redheads for their stunning and unique hair that looks amazing with any eye colour. Today we'll be looking at some celebrity redheads with brown eyes. While this is the most common hair and eye colour combination for redheads to have, it's no less amazing than it's blue and green-eyed counterparts. Who doesn't love soulful, warm brown eyes? If you'd like to see the best of the best when it comes to gorgeous celebrities with stunning red hair and amazing brown eyes, keep on reading
Natural Redheads with beauty and fame
Here are some stunning celebrity redheads who also have brown eyes! Want to jump ahead to our quick table to find out who has natural red hair and whose is dyed? Click here!
Isla Fisher
Possibly everyone's favourite redhead, Isla Fisher is famous for her stunning red hair and brown eyes combination. She may have started on the small screen, with a part in popular Australian series Home and Away, but she quickly made the transition to Hollywood, starring in everything from chick flicks like Confessions of a Shopaholic, to animated films such as Rango. Isla Fisher may be a versatile actress, but she's also gorgeous. Did you know that her natural red locks are down to her Scottish heritage?? Though she may be Australian, Isla Fisher was born in Scotland and lived there until the age of 6.
What do you think about her and her gorgeous look? She's probably one of the most famous redheads with brown eyes, and for good reason! Talented and stunning, what more could you want?
Madelaine Petsch
Madelaine Petsch has recently risen to fame for playing Cheryl Blossom in Netflix series Riverdale. But did you know that her stunning red hair is all natural? it complements her brown eyes perfectly. Madelaine Petsch is also starting to gain fame on YouTube. It's only the beginning for her. We think her talents and unique redheaded look will help her to gain more and more fans, so watch this space, you'll probably be seeing more of her.
What do you think of Madelaine Petsch's gorgeous locks and brown eyes combination? Are you a big fan, or do you prefer other redhead celebrities?
Kate Mara
Kate Mara is a talented American actress, fashion model, and film producer. She's probably best known for her role as Zoe Banes in Netflix drama House of Cards. But, she's also famous for her roles in various films! Her natural red hair and brown eyes go perfectly together and definitely make for a unique look. She's had her natural red hair in so many styles, from a cute pixie cut to flowing auburn curls, showing just how versatile this hair colour can be!
What do you think? Are you a fan of her gorgeous locks? Who has been your favourite out of these redheads with brown eyes so far?
Karen Gillan
Karen Gillan rose to fame in the UK and beyond for playing companion to the Eleventh Doctor in Doctor Who. While she's clearly a talented actress who has also starred in and helped produce so many more productions, her beautiful brown eyes and red hair have also helped her stand out from the crowd. Like Isla Fisher, her unusual locks are down to her Scottish background, where more of the population have red hair than anywhere else in the world. If you're looking for your own gorgeous redhead, have you tried a Scot? If not, you really should, you're missing out!
Marcia Cross
Marcia Cross is an America actress, famed for her role on Desperate Housewives as well as her classically beautiful looks. Her character on the show, Bree van der Kamp, was also famous for her red hair, but did you know that it's totally natural? She's tried out a few shades over the years, but she is firmly a natural redhead.
We think that she pulls off the look so well, and looks classy and beautiful with her hair and brown eyes combination. But what is your opinion? Are you a fan of her look, or do you prefer something different?
Celebrities with dyed red hair and brown eyes
How do you feel about celebrities who dye their hair on various shades of glorious red? So many have tried it over the years. In fact, for some, red hair has become their signature look, and you would find it hard to believe that they aren't natural redheads! Do you love them the same? Or do you like natural gingers only? Whatever your preference, here are a couple of celebrity redheads with brown eyes that actually don't have naturally red hair in these photos! Are you surprised that their hair colour isn't natural?
Julia Roberts
Julia Roberts has definitely gained notoriety for her amazing acting skills. But, she's also become somewhat famous for the stunning red locks she has pulled off on and off-screen. So much so that many people believe her to be a natural redhead. But, her locks are in fact naturally blonde! While the red hair does go well with her brown eyes, it's not natural at all. What do you think? Do you love Julia Roberts and her auburn hair, or are you not a fan? Do you prefer her natural blonde?
Bella Thorne
She's one of today's rising stars, especially among the younger generation, many of whom grew up watching her on Disney Channel. In fact, she's also pretty famous for her amazing red hair and brown eyes colour combination. She's sported red hair from a young age for her acting roles. But did you know that it's not actually natural at all? She's another celebrity who has blonde hair in reality. This hasn't stopped Bella Thorne from amassing adoring fans from all over the world. And, she's tried out so many wild hair colours from green to bright orange, that her natural-looking auburn locks are almost a distant memory. We still think that she looks great with ginger hair, what do you think?
Who are the celebrities with natural red hair? Quick Table
Take a look at our quick table to find out which of the stunning celebrities with brown eyes have natural red hair!
| Name | Are they part of the celebrities with natural red hair? |
| --- | --- |
| Isla Fisher | Yes |
| Madelaine Petsch | Yes |
| Julia Roberts | No |
| Kate Mara | Yes |
| Karen Gillan | Yes |
| Bella Thorne | No |
| Marcia Cross | Yes |
Where can you meet redheads with brown eyes?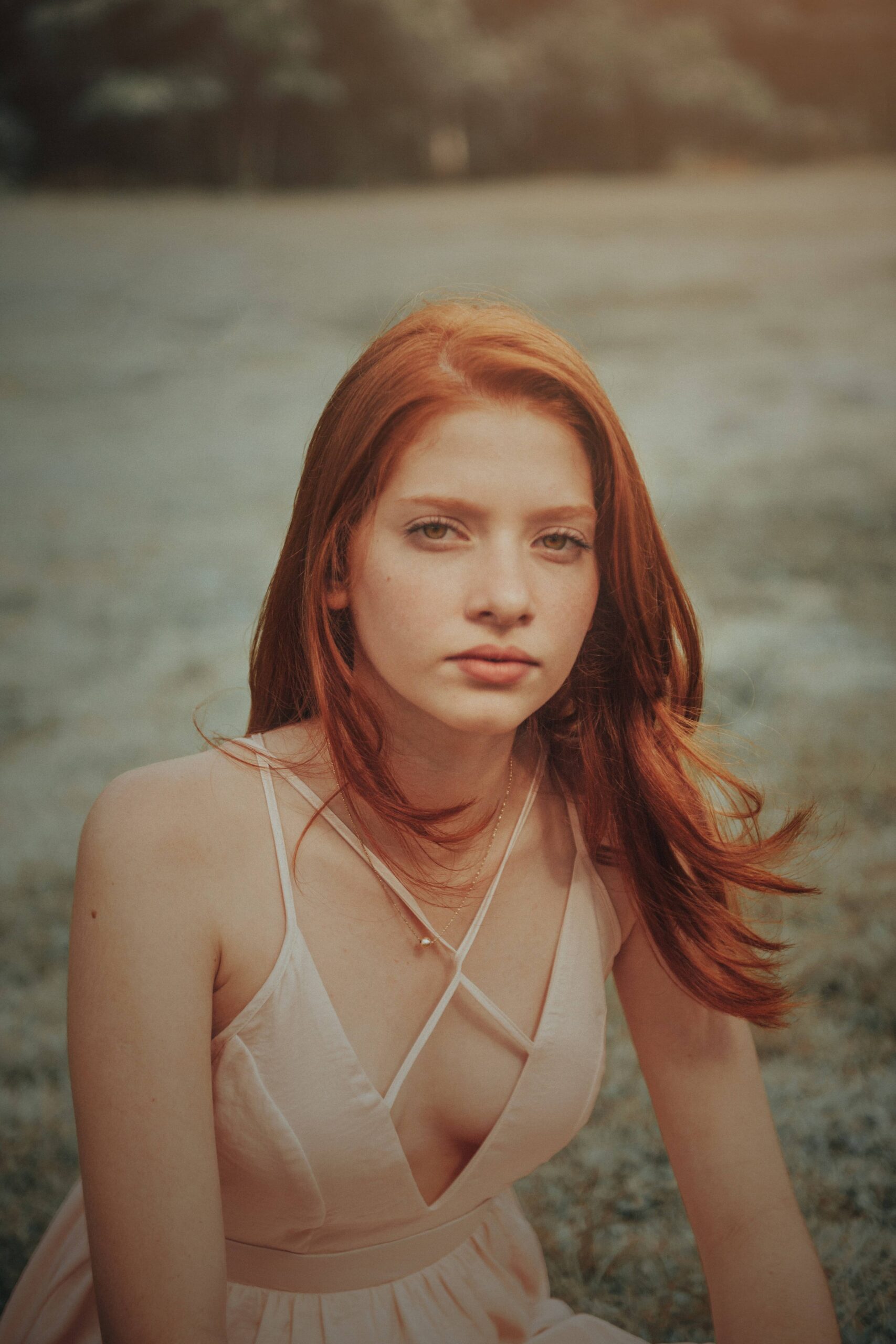 Do you dream of meeting our own redheaded partner with brown eyes? Or perhaps just a stunning redhead in general? If you've not dated redheads before then you really are missing out. There are so many benefits, including their rare beauty and kindness and compassion. At Redhead Dates, we are passionate about matching redhead singles and redhead lovers together to meet, chat, and date. Here are just some of the benefits that come with signing up!
Looking for a ginger flame that's close to home? We have so many people on our site, there's sure to be some near you! We pride ourselves on facilitating the perfect redhead match in your local area. So, get logging on and you never know who you might be able to meet on our dedicated site!
Start meeting people for redhead dating straight away! Our signup process is so quick and easy. And, once you're on the site, you can start browsing our range of profiles and get chatting to people as soon as possible. We have no unnecessary steps. We want to make it easy for you! So, what are you waiting for?
Whether you're looking for your ideal long-term partner, or just want to see who's out there, it's up to you with Redhead Dates! A lot of our members are looking for something serious, so if this sounds like what you're looking for too, get joining! However, we do have other members who want to get to know and chat with a few people- there really is something for everyone when it comes to our site!
All of the profiles on our site are from REAL redheads and redhead lovers! They're not fake profiles and we monitor for spam to make sure that your experience with us is as authentic as possible! There really is nothing to lose by signing up- we have real men and women waiting for you to meet them!
Are you looking to broaden your horizons a bit? While we do have plenty of local people available for redhead dating, we also have profiles from all over the world! So, if you want to travel in search of love, or are looking for people a bit different to your usual locals, we can cater for that as well. Go on, what are you waiting for? With so many profiles from all over the country, it's likely that your perfect match is right here…
Want to try something new? Whether you're new to the ginger dating scene or have been dating redheads for a while, the real profiles on our site cater to everyone's tastes! We have people with all kinds of interests who are looking for their special person to get along with! We pride ourselves on offering something for everyone, with one thing in common- being a redhead or redhead lover!!
It's FREE to join! Redhead dates is a free site, so if you want to sign up and start meeting your dream redheads without spending a single thing, this is the site for you! And, it's simple, quick, and easy- so there really is no reason not to sign up if you love redheads!
100% safe and secure. Finally, with our site, you don't have to worry about your information! You can meet and date redheads with absolutely no risk to your information's safety. What more reason to sign up and start your redhead dating journey today?
Want to start meeting redheads with brown eyes today? Just click here to sign up.