Pretty Redhead Girls That Will Make Your Day!
There's nothing quite like a gorgeous redhead girl. Their stunning hair comes in so many different shades, from the darkest auburn to the lightest tones. When it comes to redheads, there really is something for everyone. They also have the rarest hair colour on earth, making them even more alluring. Plus, they look stunning with every eye colour, from blue (the rarest colour) to brown, and everything in between. There are so many men out there who dream of meeting their ideal redhead partner. And why wouldn't you, when there are so many stunning ginger girls out there? In this post, we've put together some photos of pretty redhead girls that you're sure to adore!
Want to see their pretty faces and stunning, unique looks? Keep on scrolling! With so many different girls out there, we've tried to include something for everyone/ Who is your favourite? They're all so gorgeous. We think that you'll find it very hard to choose!
Now You've Seen Some Pretty Redhead Girls, Here Are Some Facts!
Aren't all of these girls gorgeous? They each pull of their unique look in different ways, and we think that it really works! We hope that you'll agree they're all beautiful. Want to know more about this super rare hair colour? Whether you're just curious, or ant to learn more to impress a redhead date, we've got some of the most interesting facts about people with red hair that we think you'll find anywhere! Want to know more? keep on reading…
Red hair is a very rare trait, but it can occur in any ethnicity, making for beautiful redheaded people the world over! Having said this, it is most common in people with northern or eastern European ethnicity.
Where do you think the highest concentration of redheads lives? If you guessed Scotland, you got it right! Around 13% of the population there has naturally red hair, followed by Ireland with about 10%. So, if you're looking for your perfect Scottish redhead, you should sign up to our redhead dating site because we have profiles from all over the UK!
It's harder to dye red hair than any other colour! This is because it holds on to its pigment harder than other hair colours. We think that this is a good thing- who would want to get rid of their stunning natural red hair? We think redheads should say no to hair dye!
Redheads who have blue eyes are incredibly rare! In fact, this is the rarest colour combination of eyes and hair. Most redheads have brown eyes, closely followed by green or hazel eyes. So, if you're a blue-eyed redhead, you're even more unique than the rest!
Interestingly, people who have naturally red hair are more likely to be left-handed! So, it's not just their red hair that makes them unique. This is because recessive traits, such as red hair and left-handedness often come in pairs, meaning it's more common for them to occur together.
Did you know that ginger people tend to need about 20% more anaesthetic than people with other hair colours to have the same effect? Nobody is quite sure why this is the case, but it just goes to show how unique and air ginger people truly are!
People with red hair have more sex! Yes that's right. According to a German researcher and his study, having red hair makes you more attractive, so you're more likely to find a partner as a result. That just makes people with red hair even more lucky!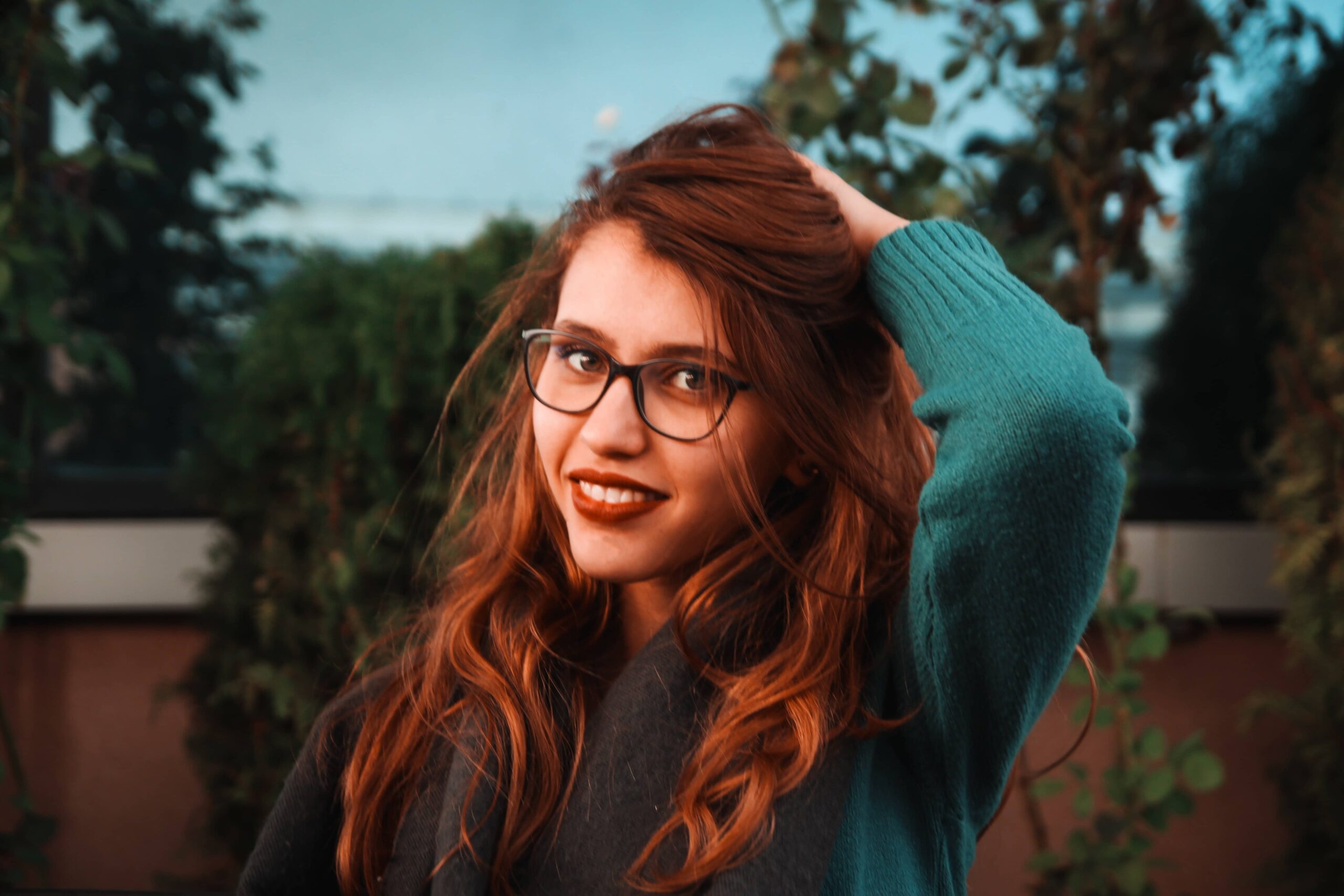 Famous pretty redhead girls we think you'll love
There are so many redhead lovers out there that we think it's not surprising that some of the prettiest women on the planet have ginger hair! There's a whole host of celebrities with natural red locks. However, people with other hair colours want to get in on the action too, and plenty more celebs have been known to dye their hair various shades of red, from the brightest primary colours, to a nice natural auburn. But did you know that all of these female celebrities are redheads? Read on to find out who we're talking about…
Amy Adams. This stunning actress has lovely long red hair and incredibly light blue eyes, reminiscent of ice! She's starred in film such as The Muppets and Leap Year, where her beautiful hair and eye colour combination have helped her to win fans all over the world.
Nicole Kidman. Perhaps one of the most famous redheads ever, Nicole Kidman is not just a talented actress! She is also world-renowned for her beautiful ginger tresses and equally stunning blue eyes. Her blue eyes add an extra bit of uniqueness to her look, and so many men can describe themselves as in love with her- and we can definitely see why
Rachel Mcadams is a Canadian actress who has starred in a wide range of films, including 2004 comedy Mean Girls, which marked her rise to fame. While she has tried out a whole range of hair colours, like blonde, and looked stunning with them all, it is her red hair that she's probably most famed for and has helped her win fans from all over the world! What do you think of her beautiful hair- is she a favourite actor of yours?
Kirsten Dunst. So, Kirsten may be a natural blonde, but she's been famous for having dyed her hair red in the past. And, we can see why she would make this choice. Her amazing blue eyes look truly stunning with this hair colour! What's your opinion on people who aren't naturally red-headed dying their hair this colour? Do you embrace it, or are you only really into natural redheads? We don't think there's any right or wrong answer, it's down to personal preference. But, we know that many celebrities are keen on dying their hair red, from natural aburn to super bright shades. What do you think?
Christina Hendricks. Christina Hendricks shot to fame after her role in popular Mad Men. Her solid blue eyes go really well with her red hair, although she is another celebrity who is actually naturally blonde. We would never have guessed, would you? The fact that we have struggled to find many celebs who have natural red hair to go with their blue eyes just shows how rare the colour combination is. And, it also shows how many people want to emulate that gorgeous look by dying their hair. So, if you're a natural redhead, embrace it- so many people would love to be in your position!
Drew Barrymore. She may have been a child star, featuring in ET, but Drew Barrymore grew into a stunning adult with lovely auburn hair and, of course, those piercing green eyes! She's tried out a few hair colours over the years, but we think her natural red locks are the best. What do you think?
Emma Stone. This actress is famous for her slew of roles, some of which have won her a great number of accolades, including an Academy Award and Golden Globe. But, we could argue that she's equally as famous for her amazing red hair and green eyes combination! It makes her stand out on-screen and off-screen, and certainly helps her to look stunning!
Isla Fisher is an Australian actress who has been on the screen since a young age. She's been in a whole string of movies, from chick click Confessions of a Shopaholic, to animated films such as Rango and Horton Hears a Who. So, she's clearly got a lot of talent! But, her stunning dark red hair has also attracted her many fans. It's probably in part to do with her Scottish heritage- around 13% of all Scots have naturally ginger locks! What do you think about Isla Fisher's stunning hair? We think that she pulls it off incredibly well!
Lindsay Lohan. She shot to fame as a child with her role in the super-popular film The Parent Trap. But, Linday's striking dark auburn hair and pretty green eyes have helped her get even more attention as an adult! She may have had a controversial life, but her beauty remains, and she's one of the most popular green-eyed redheads in the world for sure!
Karen Gillan is a Scottish actress and filmmaker, so she's more likely to have natural red hair than most! But, she also has amazing green eyes which have helped her to win a number of fans the world over. She's most famous for her role as Amy Pond, a companion to the Doctor in popular British TV Series Doctor Who.
Want to find your own gorgeous redhead?
We can imagine that the pretty redhead girls on this page have taken your fancy. Do you want to find the perfect redhead partner of your own? If the answer is yes, we have the site that's perfect for you. Redhead Dates is free to join, 100% safe and secure, and we have redhead girls available from all over the UK! There are no unnecessary steps. As soon as you sign up, you can start chatting to redheads straight away. So whether you're a redhead yourself who is looking for love, or simply a ginger hair lover, what are you waiting for? Click here to sign up to the site today.